Hotels:
HOTEL
SINGLE ROOM
DOUBLE ROOM
NH Nacional 4 *

24/11

127€

143,35€

25/11
141€
150€
Tryp Atocha 4*
155€
165€
Chamartin by Melia 3*
89€
99€
Ilunion Pio XII 4*
99€
110€
Price per night, Bed & breakfast, VAT Included. Since November, 10.
All request will be on request, confirming availability and prices. You can manage other hotels in Madrid, on request.
Request will be made by email to uam@viajeseci.es
Residences:
Erasmus Residence Hall. Location: Cantoblanco Campus, 10 minutes walk from the Faculty of Economic and Business Sciences of the UAM. Well connected to the center by Cercanías train (Chamartín 10 minutes, Nuevos Ministerios 14 minutes, Sol 20 minutes, Atocha 25 minutes). Room for individual use, on a BB basis: € 65-€ 95 room / night.
Paseo de la Habana University Residence. Located 15 minutes walk from Chamartín station, next to Duque de Pastrana metro station L9. Single room: € 45 and € 75 room / night.
In the field "residence / city" they will have to choose Paseo de la Habana or Erasmus: www.resainn.com 
Both residences include a promotional code "AECR21" to the attendees that must be entered when making the reservation in the "promotional codes" box. You will get a 15% discount on the web rate.
---
RENFE offers a 5% discount (on all its rates) on its trains to Madrid to all those attending the XLVI Meeting of Regional Studies, Congress of the Spanish Association of Regional Science.
To benefit from the discount, you must send us an e-mail to info@aecr.org   together with the proof of having paid the registration and we will send you the discount voucher as soon as possible.
Tickets on national routes of One way and / or Return with origin and destination to Madrid with a 5% discount. Travel period between November 22 and 28, 2021.
Only people registered for the Congress will be able to benefit from this discount.
How to get the discount?
In case of acquiring the ticket in a Travel Agency or in a Renfe point of sale, you must present the discount voucher that we will send you once we receive your e-mail.
In case of purchasing the ticket online (www.renfe.com), you must:
1.- Select the train you want by checking any of the available options (Basic, Choose, Choose Comfort and Premium)
2.- In the drop-down of rates select the Congress / Events rate.
3.- Enter the authorization number in the box that indicates the authorization number (Not valid for discount code box).
---
How to get to the Cantoblanco campus, where the Universidad Autónoma de Madrid (Campus de Cantoblanco)
C/ Francisco Tomás y Valiente, 5, 28049 Madrid
The Facultad of Ciencias Económicas y Empresariales is situated in the main campus of the Universidad Autónoma de Madrid (Campus de Cantoblanco), which is located at Km. 15 of the highway from Madrid to Colmenar Viejo, close to the towns of Alcobendas and Tres Cantos.
How to arrive?
To get from Madrid to campus by public transport there are two possibilities:
By train: the Cercanías line that passes through the Cantoblanco station is the C-4 (Parla-Atocha-Chamartín – Cantoblanco-Alcobendas / Cantoblanco-Colmenar Viejo). You can check their schedules, stops and / or rates.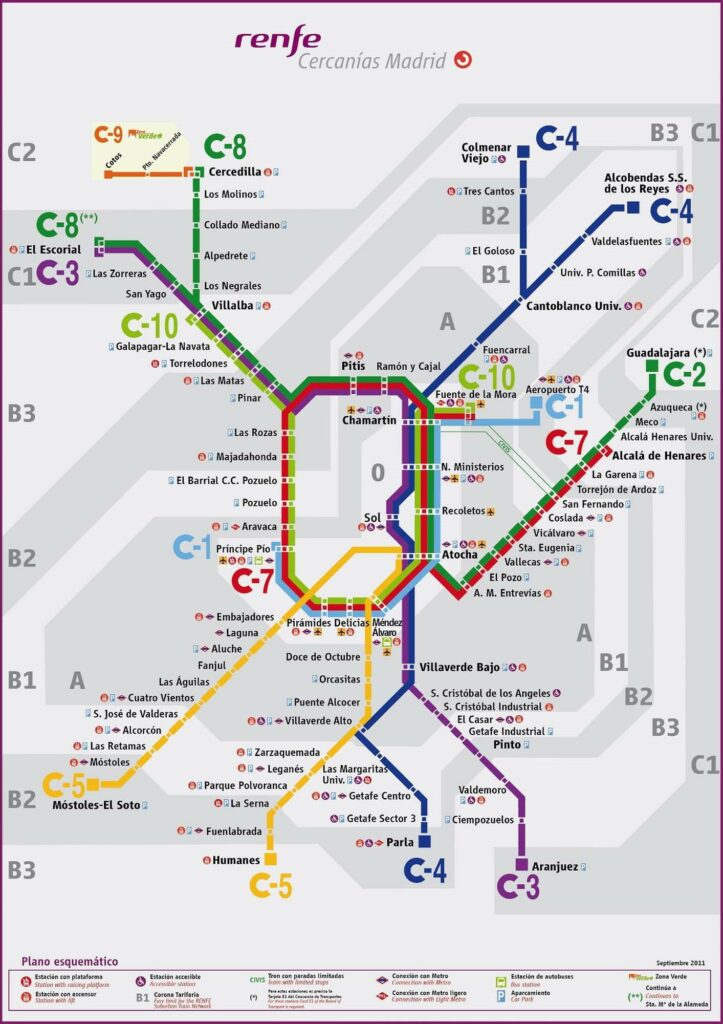 By bus: the interurban lines that have stops (see Download Area at the bottom) on the same campus are: 714 (Plaza Castilla-UAM – Universidad de Comillas), 827 (Canillejas-Alcobendas- UAM-Tres Cantos), 827A (SSReyes-Alcobendas-UAM) and 828 (Canillejas-Alcobendas-Autonomous University). Lines 711, 712, 713, 716, 717, 721, 722, 724, 725, 726, and 876 stop near the campus. To check the timetables of all these lines, go to the Transport Consortium website .